My vCHS sessions at VMworld 2013
When I see my proposals being accepted at VMworld... my ego typically gives way to fear and anxiety.
Attendees invest time, money and their expectations are (rightly so) very high. I usually hate going on stage and look dumb (it happens). More so at VMworld.
So help me doing a better job, please.
For 2013 two of them have been accepted. They are listed here below:
This is the first session.
---
Title: vCloud Hybrid Service: Architecture and Consumption Principles
Abstract
This session will cover the architectural and consumption principles behind the new vCloud Hybrid Service. This session will not include the details of the service definition but it will rather describe how we use VMware products (such as vSphere, vCloud Director and vCloud Network and Security) in a non-conventional way to create a number of different end user experiences that map to different requirements. Delivered as an on-line Enterprise class service. As a bonus we will not bore you with "why you should move to the cloud" and "what the cloud is". While this session is not going to be ultra-technical, it will discuss technical and architectural aspects of the new service that will help understand how it can be consumed optimally. It will also describe the nature of the various configurations that can be purchased in order to be better prepared to make an educated decision when approaching the service and selecting the configuration you need.
This session should be considered a starting point in a virtual curriculum aimed at learning the new vCloud Hybrid Service. The audience for this session are vSphere administrators as well as cloud architects in general.
The presentation will contain few words and bullets but lots of diagrams and pictures.
And this is the second session.
---
Title: A Parallel between vCloud Hybrid Service and Amazon Web Services
Abstract
This session will briefly cover the vCloud Hybrid Service consumption principles and elements and will then focus on how these principles and elements compare to the Amazon Web Service counterparts.
This is not by any means going to be a competitive session. This is intended to be a fast-track for those users that have been reading about, experimenting with or using the Amazon Web Services and are interested in warming up on vCHS coming from that background.
We will call out the different philosophies behind the two cloud services with a neutral approach.
While we may touch on some of the on-boarding processes difference and cost models between the two cloud services, this is intended to be a technical session.
Occasionally we may also mention other public cloud services if and when makes sense.
The second one is a bit of a trap, admittedly. It's going to be hard to keep this neutral but I promise I'll try to make my best. So far I only have the first slide done:
---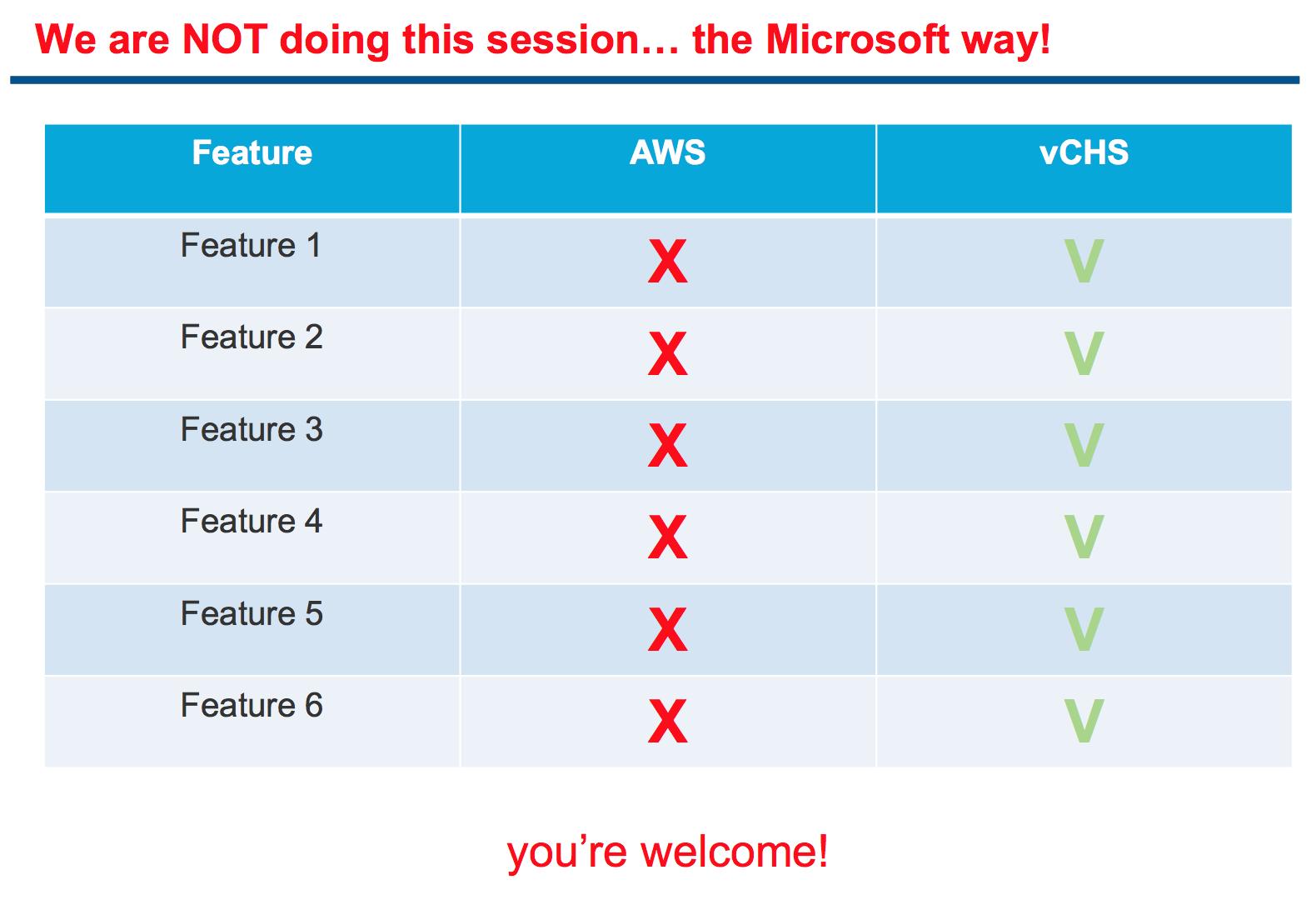 In all seriousness, I'd like you to voice what you would like to hear in these sessions. I have my own idea of what their content should be but I am also very keen to get input from you re what's top of mind with those subjects and abstracts.
I'll take everything. You can post your comments here below, you can send me a private email directly, or you can reach out to me on twitter.
I'll be working (as) hard (as possible) to make these two sessions (as) interesting (as possible). Bear with me.
Thanks. Massimo.
P.S. The slide above may or may not make the final deck, no promise.