VMworld 2009 Europe is coming: do you want to Scale Up or Scale Out?
VMworld 2009 Europe is coming (last week of February). I was planning to go and I have just found out that they have also accepted one of the two topics I submitted for the break-out sessions. The title of the session that got selected is:
Virtual Infrastructures: Scale Up or Scale Out? Rack or Blade form factors?
This is the abstract as I entered it originally (I assume it will remain the same):
---
As virtualization is becoming mainstream many organizations are undergoing design efforts to properly deploy their new virtual infrastructures. These organizations usually want to do this within known best practices boundaries.
Two of the most common concerns in the design criteria surround the hardware footprint. Specifically two of the most frequently asked questions are: 1) Should I use many small servers or fewer bigger servers? 2) Should I use rack optimized severs or a blade form factor? This session will briefly discuss the history of virtualization deployments in the context of the underlying hardware infrastructure and how it is morphing. Pros and cons of the Scale Up and Scale Out models will be discussed with real life examples and general recommendations for deploying many small boxes or few bigger high-end nodes. The session will also outline major differences and design considerations for deploying different form factors including rack servers, blade servers as well as non conventional x86 server footprints. The objective for this session is to demonstrate that one solution doesn't fit all needs and that each organization needs to assess its own requirements and pain points to determine the best hardware layout among the many. This session is supposed to empower these organizations with a list of design considerations in order to elaborate the server infrastructure layout that best meets their needs.
---
For those of you that are not patient I will give you the answer right away: It depends! (or IT depends?)
This is not clearly an AD for my session: I am not paid by the number of people that will seat down! By the way as far as the salary is concerned, most of you know that I work for a hardware vendor (IBM). Despite that I am trying (well no... I guarantee!) to keep that session (fairly) technical and not a sales/marketing advertisement. The good thing about IBM is that we have hardware technologies in the x86 space that span pretty much all the spectrum so there is no (evident) conflict of interests in talking about one scenario Vs the other.
The ESX Scale Out Vs Scale Up dilemma is something that has always (professionally) fascinated me. In 2004 I was tired of hearing all religious wars on the VMTN community forums about the advantages of one model Vs the other so I decided to write a (hopefully balanced) Redpaper on the subject. The reviews were pretty favorable as you could see (no that was not my family voting - at least I don't think so) and most of the content and philosophies could be applied these days.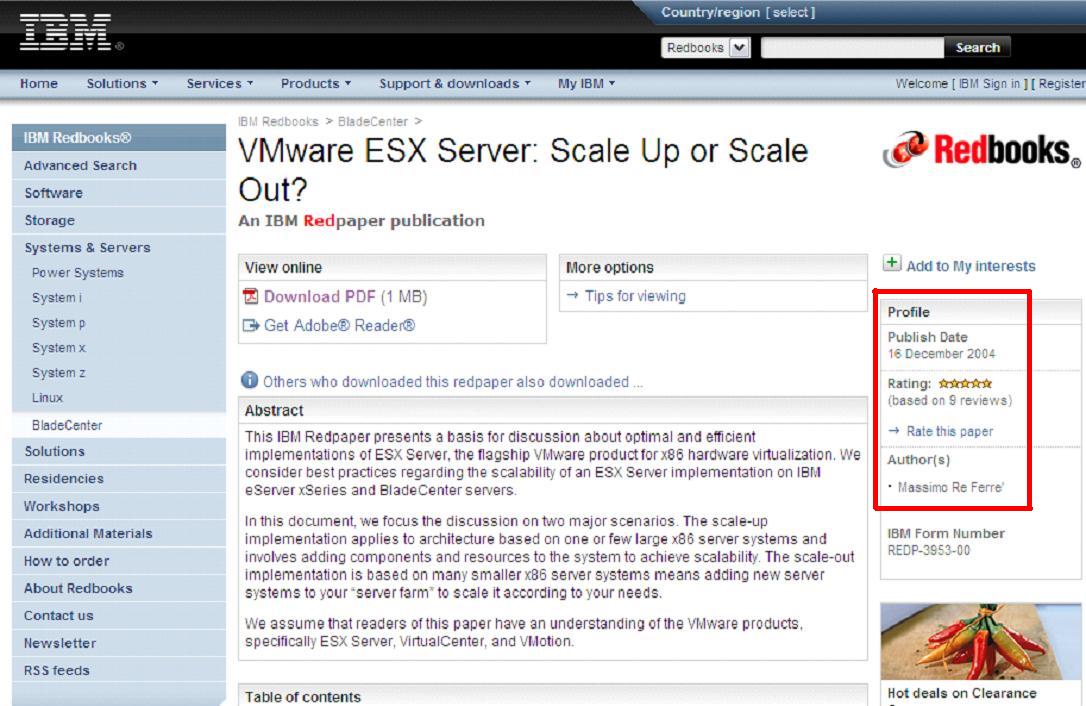 You can still download this Redpaper at this link: http://www.redbooks.ibm.com/abstracts/redp3953.html?Open
Another "project" I have been lately working on with respect to this dilemma of scaling Up Vs Out is a table I have on my site whose title is Virtual Infrastructure: Platforms of Choice
The idea behind that is that someone would look at the attributes and track down which hardware form factor can deliver what she/he is looking for. It's still very much work in progress as you may notice. One of the many challenges of filling a table like that (as well as of presenting a topic like this) is that the matter in subject is, at least, bi-dimensional. Scale Up Vs Scale Out is one dimension (i.e. big servers Vs small servers) and the "hardware form factor" is another dimension (i.e. racks Vs blades). There are rack optimized designs that scale out, other rack optimized designs that scale up, there are blades whose design is a natural fit for scaling out and there are also other blades whose design resemble a scale up solution (albeit with a number of limitations).
This discussion is not trivial. To add complexity to an already complex matter other non-conventional form factors are emerging in the market such as the IBM iDataPlex which would be hard to define a rack design (or even a blade design). At this point in time I am thinking about including some iDataPlex charts in the deck just to describe this new trend/architecture (as you can depict my deck is well before draft stage - how would you define a PowerPoint document with one blank page?).
All in all if you have comments or feedbacks on what you would like to see in a session like this feel free to send me an e-mail.
Looking forward to Cannes and if you come by, please stop and say hi.
Massimo.